SARASOTA, Fla. (September 29, 2017) – Thanks to a special federal grant and partnership with All Faiths Food Bank, JFCS recently honored seven Health Family program participants who "graduated" from their six-week Cooking Matters program.
This free program gave participants the opportunity to learn how to prepare healthy meals on a budget for the entire family and use a variety of kitchen appliances and tools. In addition, they also received tips-of-the-trade, take home recipes, a completed meal they prepared during the class and ingredients to make the meal at home again.
JFCS plans to offer the Cooking Matters program again in 2018, available to anyone participating in its Healthy Families/Healthy Children program. For more information, contact Ronni Blumenthal, Director, at 941-366-2224, ext. 145 or rblumenthal@jfcs-cares.org.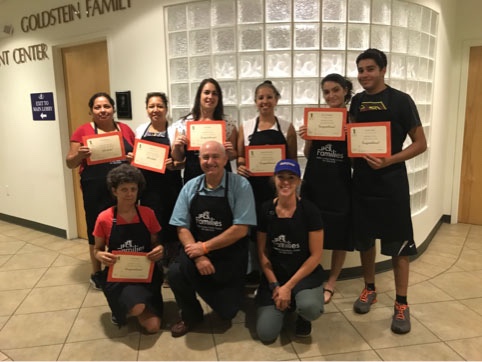 Photo (L to R): Bottom Row: Mary Kehoe, Dan Michaels and Megan Armstrong of All Faiths Food Bank. Top Row: Teresa Barrios, Adia Cruz, Anna Baker, Jacqueline Gonzalez, Alexis McLaughlin, and Chaunci Vitale.
# # #